Lessons & Training
Riding students of all ages (5 years to adult) and abilities (from very beginner to advanced) are encouraged and challenged in the Dressage lesson programs. Private and group instruction is available on the farm's well trained school horses and ponies, or on your own horse. Lessons are scheduled by appointment on weekday afternoons or evenings and all day Saturday.
For the past few years the enrollment of riding students at Fairfield Farm has averaged 50 students with half being junior riders (age 5 to 18) and half adults. Students have shown at schooling and recognized dressage competitions in New England from Training through fourth level.
They have won numerous year end and cumulative awards including: Heritage Dressage Association Year End Awards, NEDA Year End Awards, USDF Bronze Medal, USDF Rider Awards, and USDF Horse Performance Certificates. The Fairfield Show Rider Motto is "The Will to PREPARE to Win is what separates the achievers from the dreamers!"
Horse training sessions for privately owned horses are available. Training rides are discounted for horses boarding at the farm.
Western Riders and horses are also welcome and therapeutic lessons are also offered on safe, well-trained school horses. In fact, Western riders are successfully training and competing for dressage tests at Fairfield Farm shows and for Western Pleasure and Equitation at open horse shows.
Other riding programs and offerings include:
practice riding on school horses
dressage schooling competitionscoaching before and at "away" competitions
horse care and horsemanship classes
junior-young rider and adult day programs
week long summer horse program for junior riders
working student opportunities
clinic instruction
Pony Rides and Parties. Pony rides and parties at Fairfield Farm are available by appointment for birthdays and special occasions.
"We can't thank you enough for giving Drew this wonderful life altering experience! Your work and passion makes a huge difference in the lives of so many children!"
– Gretchan Pyne
www.lulubellebooks.com
Newsflash from Fairfield Farm! On May 27, 2018 at the Belands Show, Susan Adams-Conley earned her second score at Third Level over 60% to finish her USDF Bronze Medal with her Morgan mare, Sunny Acres Candee. Sue has worked to bring her mare from initially a driving horse to a credible dressage horse with USDF Performance Certificates at First & Second Levels, many year end Heritage Dressage Assoc. and Morgan Awards. We've invented many exercises over the years to teach her "how to" canter and more recently "how to do flying changes" not to mention initially "how to" steer and stop way back in Intro. Level! .. but they've worked & worked with me for this wonderful achievement! I'm very proud of this pair! Thanks to our resources too: Bethany Rebello for all your time with in hand training and coaching at the Morgan shows, Dr. Christy Cullen for your specialized veterinary care, & Larry Poulin for helping Sue & Candee in your clinics at the farm… Congratulations to Sue & Candee!! Well done.. Barb
Become the rider you've always wanted to be!
dressage is great exercise
happy horses, happy riders specializing in fun, safe riding lessons
children age 5 – Adult
beginner – advanced
your horse or ours?
well trained school horses and ponies
reasonable rates
flexible appointment schedule
working students = free lessons
don't own a horse?
consider our Special Riding Program. Our SRP includes practice riding and showing opportunities on great school horses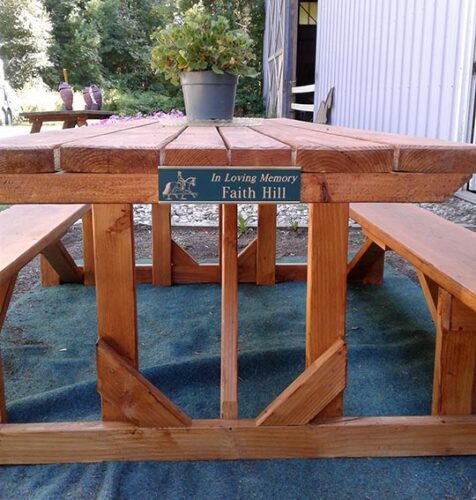 "Success comes from hard work and great support. Many thanks to Barbara Archer and Bethany Rebello of Fairfield Farm for digging in deep with me to make my riding goals a reality. "Faith Hill" and I have come a long way as a result of your dedication and insightful instruction."
– Adriana LaFave